Choquequirao is the archaeological Complex of an Inca city located between the foothills of the Salcantay mountain, the road to Choquequirao lasts 4 days and 3 nights leaving from Cusco passing through Cachora, Chiquisqa and Rosalina beach. To travel this route is a unique experience, you will be able to cross this imposing Inca citadel, which was lost in the jungle and recently discovered. The Trek to Choquequirao is not subject to space availability, departures are every day of the year.
Program Details:
Start: Cusco
End: Cusco
Activities: Archaeological, Cultural, Ecological, Camping, Hike.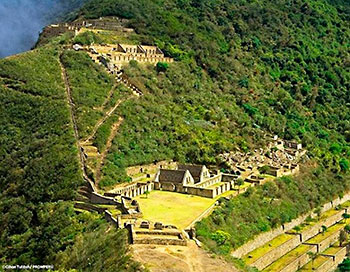 Itinerary Per day: (B) = breakfast / (L) = lunch / (D) = dinner
Day 1: Cusco, Cachora, Chiquisqa (L)(D)
We pick you up from the hotel 5:30 a.m. To start the trip to the town of Cachora, on the way we will stop for a moment to appreciate the archaeological remains of Tarawasi, then continue to the Cunyac bridge between the departments of Cusco and Apurimac, then we will pass through the district of Curawasi and Saywite to finally get to Cachora (10:00 am approx.).
From this place we will start our walk along a gently sloping path to reach Capuliyoc (2800 m.a.s.l.) where we will have lunch after two hours of walking, then we will go to the town of Chiquisqa (1930 m.a.s.l.), almost all the The journey is descending and the landscape is impressive and beautiful with a warm weather, to arrive there from Capuliyoc will take us approximately three hours of walking, in this place we will have our first camp.
Day 2: Chiquisca, Rosalina Beach, Sunchupata (B)(L)(D)
After breakfast (5:00 am), we will continue with our trekking towards Rosalina beach (1550 m.a.s.l.), then we will climb the slope very early in our way of Santa Rosa (2100 m.a.s.l.) where we will have lunch, this trip is the more difficult we will do and will take us about three hours, then after lunch we will climb up to Maranpata (2850 m.a.s.l.), this will be an easier climb, during this journey you can see all the way of our first day and the vegetation that exists in this area, then we will travel a straight stretch towards Sunchupata where we will camp and the walking time to arrive there is two hours, from this point is one hour more to Choquenquirao.
Day 3: Sunchupata, Choquequirao, Chiquisqa (B)(L)(D)
Very early after breakfast (5:00 a.m.) we will go to Choquequirao, it is an hour walk to receive the sunrise in Choquequirao, this site will be visited for three hours always accompanied by the Professional guide who will explain correctly about this important Inca refuge. At the indicated time we will start the return to Sunchupata and start descending to Santa Rosa to have lunch, and then descend to Rosalina beach, it will take us about one hour. Arriving at Rosalina we will go to the town of Chiquisqa (which is two hours from Rosalina) where we will camp.
Day 4: Chiquisqa, Capuliyoc, Cachora (B)(L)
A good breakfast will be served in Chiquisqa (06:00 am), then we will return by the same road to Cachora with a two-hour ascent to reach the pass of Capuliyoc and from here it will be two  more hours until the town of Cachora where we will have lunch,it is a much smoother section and we will be arriving 12:00 pm Approx., on the way we will see exotic flora and fauna as well as views of imposing snow-capped mountains enjoying the amazing view of the Apurimac Canyon, and then we will continue to the city of Cusco where we will arrive at 8:00 p.m. At the end we will take you to your hotel.
Cost of the Excursion: USD 430 Dollars per person (Minimum 2 people)
What's Included?
Included:
Bus transportation to the beginning of the Walk (Cachora).
Entrance tickets to Choquequirao.
Chef and kitchen equipment.
Muleteers and mules for the team.
Professional English / Spanish guide during the entire walk.
Food according to the itinerary - Personal camping equipment such as tents, mats, etc.
Vegetarian meal available at no extra charge.
Return transportation from Cachora to Cusco, transfer to your Hotel.
Not Included:
Breakfast on Day 1
Dinner on Day 4.
Tips.
Travel Insurance - you are strongly recommended to take out travel insurance for the duration of your trip.
Sleeping Bag (you can rent one from us).
What you need to take:
Comfortable walking shoes.
Waterproof jacket / rain poncho.
Warm jacket.
Hat, scarf and gloves.
T-shirts
Comfortable Trousers
Sun hat
Sun cream (factor 50 or higher)
Insect repellant
Toiletries and hand sanitizer
Personal medication.
Camera.
Torch with spare batteries