The tour to the Salt Mines of Maras and Moray platforms is done every day of the week from 8:00 a.m. to 3:00 p.m.
Travel itinerary:   
The tour begins with the pickup of your hotel to start the tour in our way to the town of Maras, passing through very typical towns and beautiful landscapes that we will be able to appreciate in the journey, arriving to:
Maras: Located in the province of Urubamba at 3300 m.s.n.m. From there we will appreciate the Vilcanota mountain range and the snowy peaks: "El Chikón" (5530 m.a.s.l), "Putukusi" and "La Verónica" (5682 m.a.s.l.). Nowadays, this picturesque town has attractions of the pre-Hispanic, colonial and republican period, highlighting the streets and colonial portals with shields of the nobles and caciques of the 17th and 18th centuries.
Moray: It is located about 7 km southwest of Maras and 53 km from Cusco with an altitude of 3,385 m.a.s.l. It is a unique archaeological group of its kind in the region. These are gigantic natural holes that were used by the Inkas who built terraces or agricultural platforms with their respective irrigation channels, it is therefore a greenhouse prototype, the main hole has a depth of 150 meters and an average height of platforms is 1.80 meters, between each of them.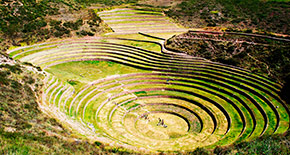 The structures of the place are Incas, it is also estimated that the bottom is on a natural rock formation that facilitates the infiltration into the interior of the earth, so that no floods occur in the rainy season. What is striking is the difference in average annual temperature between the top and bottom, is a difference that reaches up to 15 ° C. This is where incredible advances in agriculture were made.
Las Salineras: or "Salt Mines", located northwest of the town of Maras are made up of about 2,000 small wells, which were already used since the Inca period to be used for economic exchange and are still being used by the locals.
Its known that the mountain has salt mines in its interior, a source of salt water that emanates from inside of the mountain, it serves during the dry season to fill the wells in the form of "irrigation" every 3 days with salt water for a month, then it gradually solidifies, after that they do the process for the consumption of the region.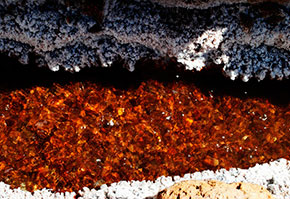 After our visit we will return to the city of Cusco.
Cost of the tour per person US $ 20 dollars.
The tour includes:
Professional bilingual guide (English / Spanish).
Tourist transportation.
Entrance to the Salt Mines 
Does not include:
Entrance to the platforms of Moray (included in the partial ticket of the Sacred Valley of the Incas, cost 22 dollars)
We recommend to bring:
Camera or video camera (Optional).
Sunglasses, sunscreen, caps or hats.
Snacks
Light and warm clothing