The City tour in Cusco takes places every day of the week
Itinerary:
We will go to pick you up from your hotel at about 01:40 pm to start the tour in the magestic city of Cusco that starts at 2:00 pm and finishes at about 06:30 pm with a duration of 4 hours. 
During the city tour you will visit the following archaeological and relifious attractions: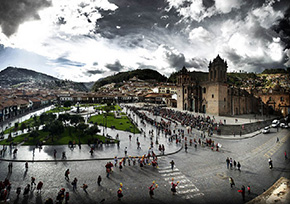 The Temple of the Sun or Qoricancha: The convent of Santo Domingo in Cusco is the oldest religious building in South America, known as the "Temple of the Sun". Currently you can see the wonderful Inca architecture linked to Spanish architecture which is a sample of our mestizo culture.
The Cathedral: The Cathedral Basilica of the city of Cusco was built by native Cusco workers and led by the Spaniards. It also has the finest expressions of colonial goldsmithing as well as wood carving and a valuable collection of canvases of the "Escuela Cusqueña" (School of Cusco).   
Saqsayhuaman: It is one of the Inca constructions that most astonishes tourists who, according to new hypotheses, point out that it would have been an important Inca ceremonial center and not a fortress as previously believed. Its construction took more than seven decades and required the strength of about 20,000 men.   
Qenqo: Ceremonial and ritual center, it was an amphitheater where sacrifices were made, it is said that it was an Inca shrine. Its construction is made of stones. There are passages, canals and staircases with engravings that represent the cougar, a very sacred animal for the Incas.
Puca Pucara: Former tambo guard place along the Inca roads, this archaeological site has: enclosures, interior plazas, baths, aqueducts, watchtowers and an easily recognizable Inca trail in synthesis the urban layout is highly adequate and functional.
Tambomachay: Through its stairways you can see crystalline waterfalls and, according to what is affirmed here, the liquid element for the Incas, "the water", was worshiped.   
We will be returning to Cusco at 6:45pm.
Frecuency:
Every day of the week in the afternoon from 02:00 pm to 06:30 pm 
City Tour Cusco, Cost per person: US$ 20 Dollars
Whats Included?
Included:
Pick up from you hotel to start the tour.
Transportation by Touristic bus.
Professional bilingual guide.
Not Included:
Entrance tickets to all 6 tourist attractions to visit
- Entrance ticket for the Cathedral ... S/. 25 soles 
- Entrance ticket for Qoricancha....S/. 15 soles
- Cusco tourist ticket (Sacsayhuaman, Qenqo, Pukapukara, and Tambomachay) … S/70 soles for foreigners and s/40 soles for peruvians.