The Classic Inca Trail to Machupicchu is listed as one of the best in the world due to the beauty of archaeological wealth, flora and fauna that exists throughout the route to Machu Picchu. The Inca Trail is one of the most well-known and popular treks in the world, 4 days walking around the original paved Inca pathways.
Walk through typical andean valleys, grasslands and cloud forests visiting the ancient Inca ruins along the way. Finally, we will arrive to the lost city of the Incas Machu Picchu, our experienced guides will guide you through safe areas.
Notes:
Starting Altitude - 2720m / 8920 ft.
Highest Altitude - 4217m / 13,780 ft (Day 2).
Longest Day - Day 2, approximately 16 km / 9.9 miles
Coldest Night - Day 2 around 0º celsius
Youngest person we have ever taken: 5 years old.
Oldest person we have ever taken: 78 years old.
Acclimatization is Recommended.
The Inca Trail to Machu Picchu is considered an intermediate level walk since there are no rock climbs or paths on the road, so no previous experience is required, however it is necessary to be in good physical condition to make the route.
The most difficult part of the route is the second day that has to be climbed by a number of staircases starting from 2000 m.a.s.l. to 4217 m.a.s.l walking through a small space. Then the road becomes easier, continuing downhill.
The Inca Trail is 43 kilometers long, which are distributed between 10 and 13 kilometers that you have to walk per day, which in total is walked between 6 to 9 hours each day, except for the last day you walk only two hours. If you suffer from cardiac, respiratory or arterial alterations, high or low pressure, etc, it is important to mention them before making the reservation of the Inca Trail in order to evaluate your participation; If possible, check with your GP.
Tour Itinerary for the Inca Trail to Machu Picchu
Day 1: CUSCO, KM 82. (PISCACUCHO), HUAYLLABAMBA:
Walking time from 6 to 7 hours.
We will pick you up from your hotel between 6:30 a.m. to 7:00 a.m., leaving the city of Cusco at 7:30 a.m. in our way to Ollantaytambo district where we will stop for 45 minutes to have breakfast, in this place you can also make some purchases such as: batteries for flashlights, rain ponchos, coca leaves, etc. Then we will continue our journey to Km. 82 (Piscacucho), this place will be the beginning of the walk, after two hours we will reach the archaeological group of Llactapata, here the guide will explain the history of this place. Later we will continue with the trek through the valley of Cusichacay, finally arriving at Huayllabamba (3,000 m.a.s.l.) where we will spend the first night Camping.
Walking distance: 8.7 miles /14 km (6-7 hours)
Campsite altitude: 3300 meters m.a.s.l.
Considered: Moderate day (getting used to the Inca Trail)
Weather: Warm and windy
DAY 2: HUAYLLABAMBA, WARMIWAÑUSCA AND PACAYMAYO:
Walking time from 6 to 7 hours.
Early, after breakfast, we will begin the most difficult and demanding part of the route, with an exhausting climb of three to four hours, to reach the first place called Warmiwañusca ("dead woman"), with an altitude of 4,200 m.a.s.l. At this point we will be able to see a breathtaking view of the entire valley of Huayllabamba and Pacaymayo where you will feel on top of the world, in this place the guide will perform a small "pago" or ritual ceremony to the Veronica and Wayanay snow peaks, after this ritual ceremony with coca leaves we will be descending the mountain for about an hour and a half to reach Pacaymayo (3,600 m.a.s.l.) where we will spend the second night camping
Walking distance: 8.7 miles / 14 km (6 - 7 hours)
Campsite altitude: 3600 m.a.s.l. (cold weather)
Considered: Top day (you will have survived the two highest areas)
Area: Andes and Cloud Forest
Weather: Cold and rainy
DAY 3: PACAYMAYO, PHUYUPATAMARCA AND WIÑAYWAYNA.
Walking time from 7 to 8 hours.
After breakfast, we will begin to ascend to the second step of the Inca trail, after an hour's walk we will reach the archaeological group of Runcuracay, place that was discovered in 1915 by the American explorer Hiram Bingham, then we will continue climbing the mountain and we will reach the second step, from this place we will be able to appreciate the valley of Pacaymayo, Aobamba and the snow-covered mountains of Pumasillo (6,000 m.a.s.l), Verónica (5700 masl) and some small lagoons, because of the location this place leads to the meditation, then we will descend the mountain to reach the third archaeological group of the Sayacmarca road (3540 m.a.s.l.), which will be visited to continue with the walk and after 30 minutes we will arrive at the camping area of Chaquicocha where we will have lunch. After a break we will continue towards the pass of Phuyu Patamarca (3650 m.a.s.l.), from this place we will see the impressive mountain of Machu Picchu where we will be taking a short break and we will be able to take some pictures. After 10 minutes of descent we will arrive at the archaeological group of Phuyu Patamarca, Intipatay and Wiñayhuayna, from this place we will descend the mountain approximately 1,000 meters, in the course of the tour we will be enjoying the best example of the Inca stone path as well as the diversity of flora and fauna to finally arrive at the Wiñayhuayna camping area, place where we will be spending the third night.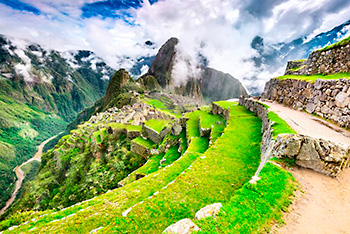 Walking distance: 9.94 miles / 16 km (7 to 8 hours)
Campsite altitude: 2.600 meters above sea level (cold weather)
Considered: Easy day – all downhill!
Area: High Cloud Forest.
Weather: Warm and very humid.
DAY 4: WIÑAYWAYNA, MACHU PICCHU AND CUSCO.
Walking time from 4 to 5 hours.
Very early at 4:00 a.m. we will have breakfast to start the trek to Machu Picchu at 5:00 a.m., on the way we can see a diversity of flowers, begonias, orchids, ferns, etc., likewise a biodiversity of birds, after an hour and a half we will arrive at the Sun Gate (INTIPUNKU), which is the first point of view of the archaeological site of Machu Picchu, from here we will take photographs and appreciate the sunrise. We will descend the mountain to later arrive at the admission control of Machu Picchu, where we will have a little free time so that you can use the restrooms and you can store your suitcases or backpacks in the cloakroom, later with the Professional guide you will visit the archaeological citadel of Machu Picchu for about 2 hours with 15  minutes, after that you will have free time to explore the place and take the bus back to the town of Aguas Calientes where you will be boarding the train back to Cusco.
Considered: The most exciting and magical day (early wake up 4:00AM)
Area: High Cloud and Subtropical Forest
Weather: Hot and very humid (bring lots of water)
WHAT IS INCLUDED?
Services included in the Inca Trail:
Tourist Transportation from Cusco to Km 82
Train tickets from Aguas Calientes to Cusco.
Bus tickets from Machu Picchu to Aguas Calientes.
Entrance ticket to the Inca Trail to Machu Picchu.
Porters (are responsible to carry all the equipment of the agency during the trip)
Bilingual professional guide (Spanish / English)
Full meals 3 Breakfasts / 3 Lunches / 3 Dinners.
Camping equipment (tents, Mattress or mats).
First aid kit.
Not Included:
First breakfast
Last lunch
Extra Porter
Sleeping Bag: $20
Inflatable Air Mattress: $15
Walking Sticks (Pair): $15
Huaynapicchu: This one is done on your own after your tour of Machu Picchu. The cost is $75. Arrangements need to be made at least two months in advance, due to popularity. Please understand that weather is out of our control.
WHAT IS RECOMMENDED TO TAKE TO THE INCA TRAIL TO MACHU PICCHU
ESSENTIALS:
Passport
Valid, STUDENT CARD (if you booked as a student)
Immigration Card (given on the plane as you enter Peru)
Good backpack.
Water storage: Water reservoir like Camelbaks are encouraged - but enough for at least 2-3 liters.
Comfortable hiking boots (lightweight with good soles, never new)
FOR YOUR DUFFEL BAG/ BACK PACK
We recommend a Backpack for walks.(approx 50 to 70 liters)
2-3 wicking long sleeve t-shirts
2-3 hiking pants
4 sets of undergarments.
4 sets of hiking socks
1 Fleece
1 Warm, down jacket: gets very cold at night
1 Rain jacket and pants
1 sun hat
1 wool hat
Headlamp: essential
Waterproof gloves (even if they are ski gloves, take them)
Walking boots.   
Waterproof jacket/rain poncho.
Quick dry towel.
Small soap.
Battery Charger since there is no place to plug in while trekking.
Large plastic bags: to help organize and keep clean from dirty.
Sleeping bag: Recommend down bags for -10 C at least.
Water: we supply clean water at each meal. You are responsible for your first morning of water only as we won't have time to filter water until your first lunch.
Pills to filter water.
Sunhat.
Rain gear.
Camera.
Extra Money for Souvenirs, Drinks & Tips.
Earplugs.
Gloves, scarf, wool stockings.
Flashlights, batteries and spare bulbs.
Sweaters and a jacket.
Warm clothes in case of cold weather (sweater and jacket).
Swimwear.
Some local money (Peruvian Soles) for the hot shower in the last camp. 
TOILETRIES:
Sunscreen and repellent
Face moisturizer
Bug spray
Hand sanitizer
Wet wipes
Toothbrush and toothpaste
Toilet paper
Personal medication.
First aid kit: band aids, painkillers, pills to prevent altitude sickness, bandages, moleskin, etc.
COST OF THE INCA TRAIL TO MACHU PICCHU GROUP AND PRIVATE SERVICE

Cost per person in group service
 $ 560USD per person
Private Service 1 passenger
 $ 1200 USD per person
Private Service 2 passengers
 $ 790 USD per person
Private Service 3 passengers
 $ 735 USD per person
Private Service 4 passengers
 $ 670 USD per person
Private Service 5 passengers
 $ 610 USD per person
Private Service 6 passengers
 $ 580 USD per person
OPTIONAL ADDITIONAL SERVICES:
One additional night in Aguas Calientes in a single or double room, 2 star hotels, Cost: USD 75 per night. (If you want a higher category hotel, check with the agency).
Additional entrance tickets to Machu Picchu with Huaynapicchu USD 70 Dollars.
Additional entrance tickets to Machu Picchu for an additional day: USD 52 Dollars.
Bus tickets up and down from Aguas Calientes to Machu Piccchu and vice versa for the additional day USD 26 dollars round trip.
1 Extra Porter (14 kg) to help you with your personal luggage: USD $ 110.00. The extra Porter can be shared by 2 people.
Additional mattress x 01 unit: USD $ 15.00.
Additional tent x 01 unit: USD $ 25.00.
Sleeping bag x 01 unit: USD $ 20.00 per person.
Walking stick x 01 unit: USD $ 10.00 per person.
Availability for the Inca Trail to Machu Picchu:
The availability of the Inca Trail to Machu Picchu is limited, with only 400 spaces per day, these spaces are distributed among guides, tourists, porters and cooks, it is recommended to make the reservation for the Inca Trail with a minimum of 3 months in advance in high season (from April to November) and with 2 or 1 month in advance in low season, it is important to always check the availability with our travel agency.
Only Travel agencies can make reservations for the spaces to access the Inca Trail to Machu Picchu, in case you can't get spaces for the Inca Trail there are other alternate routes to Machu Picchu as the Road to Machu Picchu through the Jungle in 4 days and 3 nights and the Salkantay Trail to Machu Picchu in 5 days and 4 nights, these routes have full availability of spaces and are held all year round.
The recommended time to make the Inca Trail to Machu Picchu or alternative routes to Machu Picchu is in high season (April to November) as there is no rain so the route will be safer and easier to go through.
Level of difficulty of the Inca Trail Trek:
The Inca Trail certainly requires a little physical effort. Considered as "moderate" grade, this will depend more than anything on your physical condition. The height and the constant ascents and descents constitute the biggest difficulty in the walk. To reach the first step, the walk ascends from 2000m to 4000m. Followed by a descent of approximately 1500m. After crossing the second step located at 3500m, the degree of difficulty of the walk will be reduced. Age does not play a fundamental role, but your willpower and the desire to live an unforgettable experience.
Physical condition you should have before undertaking the Inca Trail: 
In fact, a good physical condition will help you to enjoy this walk even more. Try to do some physical activity before your trip, if you are not used to doing it regularly. The most important thing is to take a minimum time to acclimatize in Cusco. We recommend that you stay at least two or three days in Cusco before starting the Inca Trail.
Important:
We do not recommend it to people suffering from respiratory or cardiac problems.
It is mandatory to inform us if you suffer from any disease or ailment such as diabetes, asthma, problems or surgeries in the back or legs, noticeable decrease in vision, etc.
Although the expedition travels with a complete medical kit, we recommend you to bring a personal kit, which has sunscreen, hydration salts, analgesics, anti-inflammatory, anti-diarrheic, sanitary bands, painkillers, sterilized cloths and medicines for personal use.