The famous Salkantay Trail Machu Picchu (or Salcantay Trek), named among the 25 best excursions in the world, by the National Geographic Adventure magazine, is a walk open to everyone, without limitation of spaces or permits (at least for now ). Connect the city of Mollepata, Cusco with Machu Picchu, the Salkantay Trek is an ancient and remote trail that is in the same region as the Inca Trail, where huge snow-capped mountains collide with lush tropical forests. Located less than fifty kilometers northwest of the city of Cusco in southern central Peru by the Vilcabamba mountain range and rising 6,271 meters above sea level (20,574 feet) Mount. Salkantay is an excellent ice cap summit worshiped for thousands of years by local Indians. The name Salkantay is a Quechua word meaning "Wild Mountain". Our classic Salkantay Trek is a custom design alternative with the traditional Inca Trail. Out of the ordinary, this is a cutting edge experience for adventure travelers looking for more privacy and authenticity. With more spectacular views, the Salkantay to Machu Picchu Trek offers solitude and silent contemplation as a sacred path deserves.
Departures: Every day.
Operable: All year.
Make your reservation in advance.
FIRST DAY: CUSCO, MOLLEPATA AND SORAYPAMPA: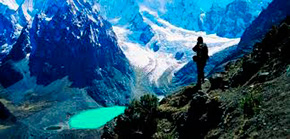 Walk from 7 to 8 hours.
The pick-up will take place from the Hotel at 4:30 am to take us by bus to the town of Mollepata, which is two hours from the city of Cusco where we will stop for breakfast and buy coca leaves, bamboo sticks and other things, and then we will start the trek of approximately three hours to reach Cruzpata where we will have lunch appreciating the Nevado del Umantay which is at 6,000 meters above sea level and then continue with the trek for a period of 5 hours, finding a variety of flora and fauna in the route. the area, finally we will be arriving at the camp of Soraypampa to spend the first night, in front of the snow-covered mountains of Umantay and Salkantay.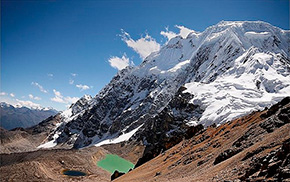 SECOND DAY: SORAYPAMPA AND CAMP IN CHAULLAY:
Walk from 8 to 9 hours
After breakfast we will start the trek and ascend from 3,700 meters above sea level to 4,600 meters above sea level at the Salkantay pass where a payment ceremony will be held for the Apu Salkantay with coca leaves, where all the members of the group will participate and the master of ceremony will be the guide; After this ritual we will be descending and on the way we will be passing through the community of Huayraq pampa, Rayanpata from this point until the camp corresponds to the high jungle in this area we will be seeing a diversity of flora such as a variety of bamboos, ferns, mosses, palms, orchids, etc. likewise we will be seeing a diversity of birds to finally reach the Chaullay camp (1900msnm), where we will be spending the second night.
THIRD DAY: CHAULLAY AND CAMP IN SANTA TERESA:
Hike 5-6 hours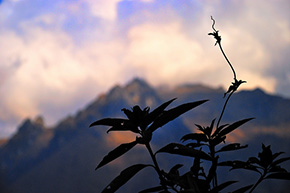 This day we will be awakened at 6:00 am to start the hike at 7:40 am. From this point we will be descending into the jungle and in the course of our trek we will be observing different waterfalls and water formations (stalactites). Seeing a variety of fruits of the jungle such as papaya, passion fruit, avocado, banana, orange, coffee plantations, coca plantations, etc. We will also be seeing a variety of birds such as quetzal, parrots, tucanetas, hummingbirds and others, passing through some communities such as Collpachaca, Lluscamayo and finally Sahuayaco Beach where we will have lunch, then have a little nap and then take the bus from this place to the district of Santa Teresa (place of the camp) of this place we will be taking the bus to go to the thermal baths of Santa Teresa called Cocalmayo (optinoal, not included), where we will be enjoying and at the same time relaxing our muscles for a lapse of an hour and a half to return to our camp and finally dine.
FOURTH DAY: SANTA TERESA AND NIGHT IN AGUAS CALIENTES.
Walk from 3 to 4 hours.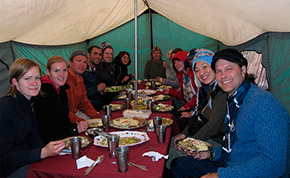 Breakfast 8:00 am, then we will be visiting the district of Santa Teresa that for now this little town is an important nucleus for all the walkers that arrive from Choquequirao, Santa Maria, Salkantay and Vilcabamba, which makes a very close future come to be a small cosmopolitan city like Aguas Calientes, later we will be taking the bus to go to the small town of the Hydroelectric where we will be having lunch then we will have a three hour walk along the right bank of the Urubamba River passing through Mandor place where the American explorer Hiran Binghan arrived. this place was in contact with the farmer Melchor Arteaga who led him from this place to this Inca rest and if we are lucky we will be seeing the cock of the rocks bird that represents the jungle of Peru and finally we will be arriving at the town of Aguas Calientes, where we will pass the night in a hostel.
FIFTH DAY: AGUAS CALIENTES, MACHUPICCHU AND RETURN TO CUSCO: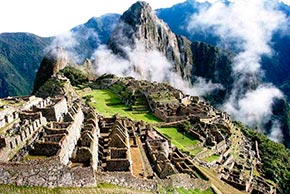 Full day
We get up at 5:00 am to have breakfast and then take our bus to the Archaeological group of Machupicchu where we can observe the sunrise, then we will have a guided tour in the citadel of Machupicchu for approximately 2:00 hours culminating Guided tour will have free time so that they can explore the place, take pictures and enjoy the immense stone structures made by the Inca civilization, we will be returning to the town of Aguas Calientes to take our train back to the city of Cusco arriving at 8 : 30 to 9:00 at night.
End of services.
IT INCLUDES:
Bilingual guide
Transportation (bus Cusco - Mollepata and Sta. Teresa - Hydroelectric.)
Train ticket Aguas Calientes - Cusco.
Food (04 breakfasts, 04 lunches and 04 dinners).
Hostel in Aguas Calientes.
Horses to carry the camping equipment.
Camping equipment (tents and matras or conchonetas).
Chef.
Income ticket to MACHUPICCHU.
First aid kit.
Entrance to the salkantay park.
Rise and descent bus from Aguas Calientes - Machupicchu-Aguas Calientes.
DOES NOT INCLUDE:
Sleeping bag.
Tips
Extra Carrier (If you want you can request this service for the cost of US75 dollars, maximum load capacity 15 kilos)
WE RECOMMEND TO BRING:
Wear shoes or shoes without shoes for walks
Personal hygiene items.
Personal medicine kit (bandages, cotton, bandages, alcohol, aspirin, pills for stomach problems, medicines to prevent altitude sickness).
Photographic camera.
Boots or shoes for walking, without taco.
Sleeping bag.
Walking stick with rounded rubber tip.
Hat or cap
Long sleeve shirts
Bottle of water and pills to purify the water.
Knife
Dehydrated fruits, candies and chocolates
Gloves, scarf, wool stockings.
Raincoats in the rainy season.
Flashlights, batteries and spare bulbs.
Long pants.
Insect repellent.
Sunscreen.
Sweaters and a jacket
Backpack (approx 50 to 70 liters) for walks.
Towel and toilet paper.
Underwear.
Tshirts
Warm clothes in case of friajes (sweater and jacket).
Swimwear.
A little local money for the hot shower in the last camp.
COST OF THE SALKANTAY ROAD MACHU PICCHU GROUP AND PRIVATE SERVICE

Cost per person in group service
US $ 380 dollars.
Private Service 1 passenger
US $ 1090 dollars.
Private Service 2 passengers
US $ 730 dollars
Private Service 3 passengers
US $ 620 dollars.
Private Service 4 passengers
US $ 590 dollars.
Private Service 5 passengers
US $ 500 dollars.
Private Service 6 passengers
US $ 490 dollars.
OPTIONAL SERVICE:
One extra night in Aguas Calientes single or double room USD 75 dollars. (If you want a higher category hotel check with the agency).
Additional income to Machu Picchu with Huaynapicchu for an additional day USD 70 Dollars.
Additional income to Machu Picchu for the additional day: USD 52 dollars.
Bus tickets up and down from Aguas Calientes to Machupiccchu and vice versa USD 26 dollars round trip.
DISCOUNTS AVAILABLE:
Students require an identity card, international Isic Card valid for the student and must be under 25 years of age.