The Inca Trail to Machu Picchu is cataloged as one of the best in the world due to the beauty of archaeological wealth, flora and fauna that exists throughout the route to Machupicchu.
Among the tropical forests and deserts are the mysterious archaeological sites covered by the jungle. Finally we will arrive to the lost city of the Machupicchu Incas, our experienced guides will guide you through, safe areas.
FIRST DAY: CUSCO, KM 104 (CHACHABAMBA), MACHUPICCHU AND AGUAS CALIENTES: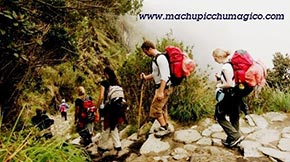 We will pick you up from your hotel at 5:50 am to transfer you to the train station, boarding the train that will take us to the km. 104 (Chachabamba), Place where we will begin the walk visiting in this place the archaeological group of the same name. We will ascend the mountain and after approximately three hours we will be arriving at the Wiñayhuayna archaeological group, we will also visit this archaeological complex that was discovered in 1942 by the Peruvian archaeologist Julio C. Tello, a very beautiful Inca construction that is in the Vilcabamba mountain range. To the studies that the archeologists realized they called Machupicchu in small by the distribution similar to the citadel of Machupicchu, after 10 minutes approximately we will be arriving at the Wiñayhuayna camp where they will have a small break to have lunch, we will continue with the route towards the viewpoint of the Intipunku (Sun Gate) ; In the tour you can see a diversity of flora such as orchids, ferns, mosses, etc.
After an hour we will arrive at the Puerta del Sol, it is one of the most impressive viewpoints of Machupicchu at 1 Km. From the archaeological group, after a short rest and take some pictures, finally take the bus of Machu Picchu to the town of Aguas Calientes, where they will spend the night in a hotel.
SECOND DAY: AGUAS CALIENTES AND CUSCO: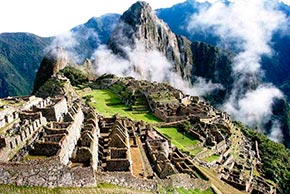 Full day
Very early at 5:30 am after breakfast our guide will pick you up at the hotel to take the bus to the archaeological group of Machupicchu where we can observe the sunrise and then visit the citadel of Machupicchu with our guide about 2 hours and 30 minutes, then they will have free time so they can explore the place and take pictures, finally we will be returning by bus to the town of Aguas Calientes to take our train back to the city of Cusco arriving at 9:00 at night approximately.
End of service
IT INCLUDES:
Professional guide (English / Spanish).
Train ticket from Cusco to km 104.
Entrance ticket to the Inca Trail to Machu Picchu .
Downhill / up / down bus ticket: Machupicchu - Aguas Calientes - Machupicchu - Aguas Calientes.
Box lounch
One night hostel in Aguas Calientes.
First Aid Kit, Oxygen Balloon.
Return ticket train from Aguas Calientes to Cusco.
Maximum 15 people per group
1 Hotel Night (in double rooms)
WE RECOMMEND YOU BRING:
Small backpack for personal things
Hiking boots.
Jacket or poncho for rain.
Water bottle (For the first day), hat, sunscreen, sun glasses
Comfortable clothes
Mosquito repellent
Chocolates and candies
Camcorder and camera (optional).
COST OF THE INCA TRAIL TO MACHU PICCHU GROUP AND PRIVATE SERVICE

Cost per person in group service
US $ 455 dollars.
Private Service 1 passenger
US $ 690.
Private Service 2 passengers
US $ 560 dollars.
Private Service 3 passengers
US $ 510 dollars.
Private Service 4 passengers
US $ 500 dollars.
Private Service 5 passengers
US $ 480.
Private Service 6 passengers
US $ 460 dollars.
OPTIONAL SERVICE:
One extra night in Aguas Calientes single or double room USD 75 dollars. (If you want a higher category hotel check with the agency).
Additional income to Machu Picchu with Huaynapicchu for an additional day USD 70 Dollars.
Additional income to Machu Picchu for the additional day: USD 52 dollars.
Bus tickets up and down from Aguas Calientes to Machupiccchu and vice versa USD 26 dollars round trip.
DISCOUNTS AVAILABLE:
Students require an identity card, international Isic Card valid for the student and must be under 25 years of age.
DEGREE OF DIFFICULTY OF THE INCA TRAIL:
The Inca Trail certainly requires a little physical effort. Considered as of "moderate" degree, this will depend more than anything on his physical condition. The height and the constant ascents and descents constitute the biggest difficulty in the walk. To reach the first step the trek ascends from 2000m to 4000m. Followed by a descent of approximately 1500m.After crossing the second step located at 3500m, the degree of difficulty of the walk will be reduced. Age does not play a primordial role, but its willpower and the desire to live an unforgettable experience.
PHYSICAL STATE TO CARRY OUT THE INCA TRAIL
In fact, a good physical condition will help you to enjoy this walk even more. Try to do some physical activity before your trip, if you are not used to doing it regularly. The most important thing is to take the minimum time to acclimatize in Cusco.We recommend that you stay at least two or three days in Cusco before starting the Inca Trail.
IMPORTANT:
We do not recommend it to people suffering from respiratory or cardiac problems.
It is mandatory to inform if you suffer from any disease or ailment such as diabetes, asthma, problems or operations in the back or legs, noticeable decrease in vision, etc.
Medical assistance for travelers is required. Please bring a photocopy of the policy with contact telephone numbers to give to the guide before the expedition begins.
Although the expedition travels with a complete medical kit, we recommend you to bring a personal kit, which has sunscreen, hydration salts, analgesics, anti-inflammatory, anti diarrheic, sanitary bands, painkillers, sterilized cloths and medicines for personal use.