The inca jungle path for Machupicchu jungle is the best adventure tour which blend bicycle, river rafting, hike.
Biking and trekking in the forest, three night trip ends with a dawn view of the valleys below from Machu Picchu.
The trip ends with a visit to the Inca citadel of Machupicchu. The Sacred path is a cutting edge experience for adventure travelers looking for a little more privacy and authenticity. With more spectacular views
First day: Cusco, Alfamayo and Santa Maria 
Between 7.00 am. Starting pick up of the passengers from your hotels for go in the bus until Santa Maria, pass for Abra Malaga (4350 on sea level) to 150 km from Cusco City, this is a Good day of start we will climb enjoy the landscape of a ecological floor mountain directly to the high jungle is say from 4350 to 1430 on sea level where the wheater is agreeable from the beginning until the final. Since the known sector how Abra Malaga or Alfamayo start the descent in bicycle the major part in descent until arrive to point of 3 hours in bycicles. Here be ready for doing river rafting is optional. Accommodation familiar lodge, dinner.
Second day. Santa Maria – Santa teresa.
After of a good breakfast, starting the hiking of 6 hours approximaly between climbs and descent, the most interesting of this day is wich impale part inca path perfect design, so same an adventure for half to the jungle surround for the green nature full fruit trees, rivers and exotic animals from region and feeling must satisfaction. On the way we will have a comforting bath in the thermal waters of Cocalmayo, the entrance is not included, for after very near, arrive to Santa Teresa (1900 meters on sea level) Accommodation in basic lodge, dinner included.
Third day: Santa Teresa and Aguas Calientes.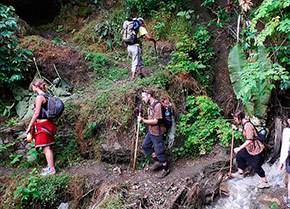 Breakfast included. This day is of nature, adventure and adrenalin and walking towards Machupicchu, the comfort of this day is the agreeable weather wich is of 25 to 30 degrees Celsius.
This path be some different with 5 hours of hiking passing ont for Hanging bridges used by locals and by oroyas, the which do very interesting our day. Finally arrive to Machupicchu or Aguas Calientes town. Accommodation in a basic hotel. This day can combine our adventure sport doing zip line.
Fourth day: Aguas Calientes, Machupicchu and Cusco. 
Breakfast very early, Travel by bus up to Machu Picchu toward citadel of Machupicchu to can see yet the cloud forest and others natural wonders of sunrise. The visit will be 3 hours in the citadel of Machu Picchu,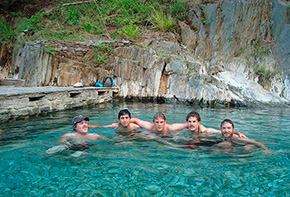 guided by a profesional, which doing of this day unforgettable in the memory and experience of each one of us. Travel by Bus down to aguas calientes. Return train from aguas calientes to Ollantaytambo and finally transfer from the Train station of Ollantaytambo to the hotel in Cusco arriving 9:30 pm. Approximately. End of services.
The cost of the Inka Jungle path is US$ 320 DOLLARS PER PERSON
Our service includes:
Transportation from Cusco to Santa María
Professional guide
Bicycle equipment
First aid kit
Basic lodgings in Santa María and Santa Teresa
01 night accommodation in Aguas Calientes
Full lunch 03 breakfasts, 01, box lunch, 02 lunch and 03 dinners
Entrance to the citadel of Machupicchu
Train ticket from Aguas Calientes- Ollantaytambo and bus to Cusco
Transfers (Does not include the breakfast of the first day and the last lunch).
Travel by bus from Aguas Calientes to Machu Picchu round trip
What you should carry:
Mosquito repellent
Additional money for thermal baths,
Extra drinks
Short, long-sleeved polo shirts, hat, sunglasses, sunblock, camera.
Optional service:
One extra night in Aguas Calientes single or double room USD 65 dollars in 2 star hotels. (If you want a higher category hotel consult with the agency).
Additional income to Huaynapicchu Mountain on the fourth day: USD 24 by person.
Additional income for Machu Picchu with Huaynapicchu for an additional day: USD 70 Dollars.
Additional income to Machu Picchu for the additional day: USD 52 dollars.