Salkantay Trek & Inca Trail to Machu Picchu 7D/6N:
The Apu Salkantay, also known as the warrior and protective Apu of the Inca Empire. Considered the center that guides the road to the Suyos, in its imposing majesty you see all the savagery of the virgin snow can show us rising up to 6,271 m.a.s.l. of height, which breaks the chain of Vilcabamba, where it joins the fantasy of the Andes, where the sunrises and sunsets create a spectacle of greatness and mystery, taking different nuances in each of its four perfectly oriented and defined faces that produce progressive changes of flora, and typical fauna of the Andes.
Travel Itinerary:  
Day 1: CUSCO - MOLLEPATA 
This day according to the Indicated time the day before, we will pick you up from your Hotel to go to the town of Mollepata (120 Km. at the Northeast of Cusco) passing by the picturesque town of Anta (Izcuchaca, Zurite, Ancahuasi) to arrive to the Limatambo Valley, in this place we will appreciate the Ruins of Tarawasi, then we will keep going to Mollepata,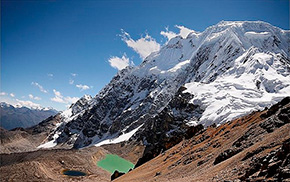 where we will take a brief break to buy anything else we may need for our trek and we will start walking to the First Camp site of MARKOKASA
Day 2: MARKOKASA - SORAYPAMPA.
After a refreshing breakfast, we will start our second day of hiking towards Choquekiclla, spotting the route of the Majestic Salkantay, on the left the Humantay, on the right Rayusca, where at each step you can feel the Fury and beauty of these ice and rock colossi that surrounds us, where we will camp approximately 4000 meters above sea level
DAY 3: SORAYPAMPA, JAPANESE PAMPA AND INKA CANAL. 
This is a spectacular day because we will make the Salkantay pass and the proximity to the Imposing Glacier Mountain, then we will descend to the Incachiriaska Valley, where we will also appreciate an ancient Inca Canal where we will rest an additional day in contact with the wonders of our Andean Geography.
DAY 4: INKA CANAL - LLULLUCHAPAMPA
After breakfast, we will continue descending towards the Valley of Huayllabamba where we will have Lunch, passing by the Archaeological Center of Incarakay (Paucarcancha) and then we will start going up to the Llulluchapampa campsite which is at 3,760 m.a.s.l. from where we will observe the Vilcanota valleys.
DAY 5: LLULLUCHAPAMPA - CHAQUICOCHA. 
We will have breakfast from 6:30 a.m. to 7:30 am. to then end with the walk to the Camp known as Chaquicocha passing through the Abra of Warmiwañusca at 4,200 meters above sea level, then descending towards Pacaymayu Valley, where we will have lunch, we will continue with the walk ascending towards the Archaeological Center of Runcuraqay (3,800 meters above sea level) then we will continue to the Second Step and descend to the Archaeological Complex of Sayacmarca .580 m.a.s.l.
DAY 6: CHAQUICOCHA - WIÑAYWUAYNA.
This day, we will observe some singular changes in the Ecologic Floors, diversity of Flora with a great variety of Orchids and others, fauna and other Archaeological groups that we will visit during the course of the day.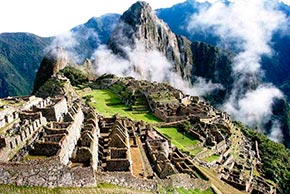 DAY 7: WIÑAYWAYNA - MACHU PICCHU - CUSCO. 
This is the last section of the Inca Trail, passing through the Inti Punku or Puerta del Sol (Sun Gate), and then arriving at the great Archaeological Sanctuary of Machupicchu, Aguas Calientes, Cusco.
Cost of the Inca Trail to Machu Picchu with Salkantay Trek 7 Days - Private Service

Private Service 1 person

US$ 1960 dólares.
Private Service 2 passengers
US$ 1210 dólares per person
Private Service 3 passengers
US$ 1060 dólares per person
Private Service 4 passengers
US$ 940 dólares per person
Private Service 5 passengers
US$ 860 dólares per person
Private Service 6 or more
US$ 710 dólares per person
Included services:
Transfer (01): From the hotel in a private bus to Mollepata.
Professional bilingual guide: English - Spanish.
Camping equipment: spacious triple tents, only for 02 pax each , double mats, dining tent, kitchen tent, bathroom tent, porters tents, camp tables and chairs, Kitchenware, etc.
First aid equipment: Emergency oxygen tank, first aid kit, communication radios, rescue ropes.
Food: Very good, there is a vegetarian option. 06 breakfasts, 06 lunches, 06 tea time, 06 dinners, snack and water.
Entrance tickets to the Inca Trail and Machupicchu
Return Train:
Horsemen with Horses for Zone 1, Porters for Zone 2: Responsible for carrying the camping equipment.
Not Included:
Recommendations:
Personal hygiene supplies
Clothes: Light and thick (ENOUGH FOR 7 DAYS)
Camera
Batteries for camera
Sunscreen and Repellent
Sun hat
Comfortable Trekking shoes
Sleeping bag and Lantern
Sun glasses
Passport and if you are a student, the valid student card stating you are younger than 25 years old (ISIC Card).
01 liter of water for the first day
Purifying tablets for water.
Note:
IN CASE OF STUDENT PASSENGERS (WITH ISIC CARD) YOU HAVE A DISCOUNT OF US $ 20.00
PRICE SUBJECT TO INCREMENTS (PERU RAIL, INC)
HORSE AND PORTER = 200 DOLLARS FOR 7 DAYS.
Optional services:
One extra night in Aguas Calientes in a single or double room USD 75 dollars in 2 star hotels. (If you want a higher category hotel, check with the agency).
Additional entrance tickets to Huaynapicchu Mountain on the last day: USD 20 per person.
Additional entrance tickets for Machu Picchu with Huaynapicchu for an additional day: USD 70 Dollars.
Additional entrance tickets to Machu Picchu for the additional day: USD 52 dollars.
Bus tickets up and down from Aguas Calientes to Machupiccchu and vice versa USD 26 dollars round trip.