Full Day Tour in the city of Ica, Huacachina Oasis, Sand Buggies Ride and Sandboarding.  
Travel itinerary:  
8:00 am Trip by Bus Cruz del Sur  from Lima to Ica (2nd floor)  
12:15 am Pick up from the bus station to the start of the tour in Ica.
1:00 pm start of the tour, meeting point in the city of Ica and we will make the tour Ica and Campiñas + Buggies ride in the desert of Huacachina. During the tour we will see and visit: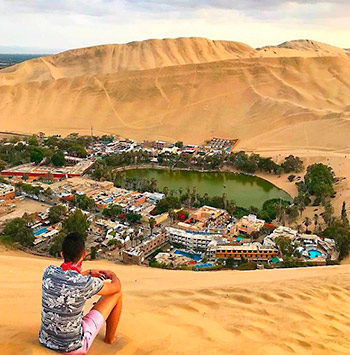 Wine cellar and Restaurant "El Catador": The most tourist winery in Ica, we will visit its facilities to taste its wines, pisco, cachinas and know the elements that are used for the elaboration of Piscos and Wines in an artisanal way, they will also have time to have lunch, does not include lunch, here you will find typical Ica food.
Then, we will visit  the main square of Ica: Ruins of the temple of Luren and Luren Walk.
Huacachina Oasis: we will enjoy an impressive landscape where we will find the Huacachina Lagoon surrounded by immense dunes, a natural oasis in the middle of the desert and surrounded by beautiful palm trees.
To end our full day in the Huacachina we will make an exciting and fun ride in Buggys or sandcars in the desert of Huacachina, where the practice of Sandboarding is included crossing much of the desert going up and down the dunes; The Ica desert in Huacachina offers one of the most beautiful desert landscapes in South America, with whimsical formations of sand formed by the wind, and with a beautiful view of our Peruvian Andes in the eastern part. Our professional driver will make stops so they can appreciate the landscape, so that they can take pictures.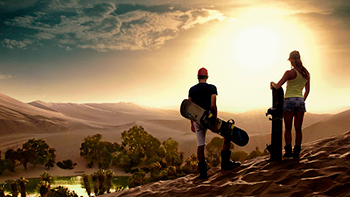 Then we will drive our vehicle to the top of a large dune where our instructor guide will show you how to practice the sport of sandboarding. Finally we will return to the Huacachina lagoon and if the weather conditions are favorable we will enjoy watching the sunset in the desert (sunset).
The tour ends in Ica at approximately 6:30 pm.
Approximately 6:30 pm. Transfer to the bus station.
7:00 pm Trip from Ica to Lima. by bus Cruz del Sur.
11:00 pm Arrival to Lima bus station
END OF THE TOUR.
| | |
| --- | --- |
| Cost of the Tour  Fulll day Ica Huacachina |  US$ 145 dollars per person |
The program includes:
Trip by Cruz del Sur Cruise Service Bus from Lima to Ica and from Ica to Lima, second floor.
City Tour Ica, Dune Buggies ride and Sandboarding in Huacachina.
Transportation according to the itinerary.
Guided Tour in English or Spanish.
Does not Include: