2 days Sacred Valley of the Incas: Pisaq, Ollantaytambo and Machu Picchu Tour with Huayna Picchu Mountain Optional (from where a spectacular view of the entire valley of Machu Picchu is appreciated)
Day 1: Tour of the Sacred Valley of the Incas and Travel by Train to Machupicchu (Aguas Calientes)
7:40 am to 7:55 am, Pick up from your hotel.
Sacred Valley of the Incas Tour, visiting: the traditional Indian market of Pisac, ruins of Pisac and Ollantaytambo (from 8:00 am -4:00 p.m.)
Lunch Buffet included in the best restaurant in Urubamba "Tunupa"
Travel by train from Ollantaytambo to Aguas Calientes town in Expedition Train (from 7:00 pm to 8:43 pm)
Transfer from Aguas Calientes station to your Hotel.
Hotel stay in Aguas Calientes - Machu Picchu.
 Itinerary:
The Sacred Valley of the Incas tour begins at 8:00am, but we will come to pick you up at your hotel lobby before the tour starts. In this tour you will visit the town fo Pisac. Located 32 km from city of Cusco. 
Pisaq is a typical Andean artisan and archaeological town where the famous Handicraft Fairs are held in their typical markets where you can make purchases and enjoy a guided tour in the archaeological sites of the place; continuing with our tour of approximately one hour we will pass through different towns such as: Coya, Lamay, the province of Calca, Yucay appreciating the beauty of the Sacred Valley of the Incas. We will pass to the town of Urubamba where we will enjoy a delicious buffet lunch in the cozy restaurant "Tunupa"; Later we will go to the town of Ollantaytambo (It is the only Incan city in Peru that is still inhabited) to visit the archaeological complex of the same name ; having been an agricultural, administrative, social, religious and military complex in the Tahuantinsuyo, ending the tour at approximately 4:00 pm, then you will have free time in the town of Ollantaytambo, where you can visit their craft market, their small streets that still keeps the layout of the Inca streets, seeing the water run through its old canals, is like going back in time, ideal for taking pictures or having a coffee in its Main Square.
At the indicated time you must take the Ollantaytambo train leaving at 19:00 p.m. to the town of Aguas Calientes where our staff will be waiting to transfer you to the selected hotel.
Day 2: Guided Tour in Machu Picchu and Optional: Huaynapicchu Mountain.
Breakfast included in the Hotel.
Travel by Bus from Aguas Calientes to Machu Picchu.
View of the sunrise in Machu Picchu.
Guided tour in Machu Picchu (2-3 hours approximately) 
Optional: Huayna Picchu Mountain hike or Machu Picchu Mountain (3 hours, without guide) In case you want to climb Huaynapicchu Mountain, book at least 3 months in advance, check spaces. Entrance Not Included
Travel by bus from Machu Picchu to Aguas calientes.
Travel by Train from Aguas Calientes to Cusco in Expedition train service.
Transfer from the train  station to your hotel.
Hotel Stay in Cusco.
Itinerary :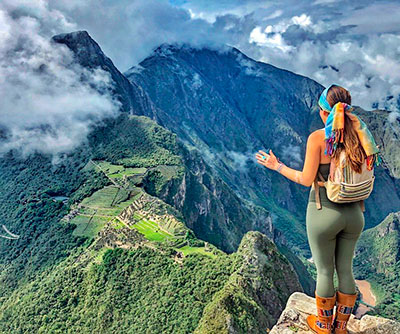 An excellent opportunity to get up early to take the tour to Machupicchu. After your breakfast at the hotel, you will take the bus from Aguas Calientes Town to Machu Picchu (altitude of 2450 meters above sea level, approximately a 25 minutes ride). You will have your guided tour of about 2 hours, being able to visit: the Main Square, the circular tower, the Sacred Solar clock, the Royal Room, the Temple of the three Windows, and the Cemeteries.
OPTIONAL: Before or after the guided Tour, depending on your tickets schedule, You will have time to climb Huayna Picchu Mountain or Machu Picchu Mountain (Notice that if you want to climb Huaynapicchu mountain, it must be booked at least 3 months in advance because of availability, the entrance times may vary depending on the time of booking). You can visit Huaynapicchu Mountain (from where a spectacular view of the entire valley of Machu Picchu is appreciated) or Machu Picchu Mountain (the mountain that gave its name to Machu Picchu with a unique landscape beauty) the entrance ticket to one of the Mountains is not included and you can do it optionally, any of them will take you 3 hours approximately - round trip. 
This travel program is ideal for touring Machu Picchu in its entirety and taking pictures with enough time until the time you take it convenient to return by bus to Aguas Calientes so you can have lunch in the same town. In the afternoon you will have to board the train to Cusco.Once you arrive to one of these Train stations our staff will be waiting for you to transfer you to your Hotel in Cusco.  
The advantage of this tour is that you can get to know Machu Picchu without many people and with much more time available. 
End of the Tour.
The cost of the tourist package is expressed in U.S. dollars and is per person, the cost will depend on the category of hotels you choose, we have the best service in hotels 2 ** 5 *****, also depend on the type of room you require.
| Hotels | DWB(Double) | TPL(Triple) | SWB(Single) |
| --- | --- | --- | --- |
| Hostels with private room and bathroom | US$ 351 | US$ 348 | US$401 |
| Hotels 2** | US$ 384 | US$ 379 | US$ 415 |
| Hotels 3*** | US$ 417 | US$ 405 | US$ 479 |
| Hotels 4**** | US$ 497 | US$ 491 | US$ 800 |
| Hotels 5***** Sumaq or Inkaterra | US$ 682 | US$ 644 | US$ 999 |
Note:
Our groups from 3 passengers can request their special discounts for all our Packages.
Optional services:
You can request Executive train service or Panoramic vistadome Increasing $ 45 U.S. Dollars per person.
You can request the Hiram Bingham luxury train Increasing USD 664 dollars per person.
The Tour includes:
All transfers from your hotel to the train stations and tourist attractions to visit.
Guided Tour in Machu Picchu and the Sacred Valley of the Incas.
All transportation for the tours.
Train tickets from Ollantaytambo to Machupicchu and  from Machu Picchu to Poroy or Ollantaytambo.
Transfer from Poroy station to your hotel in Cusco.
Bus tickets up and down Aguas Calientes - Machupicchu - Aguas Calientes.
Professional tour guide in English or Spanish language.
Entrance tickets to all attractions to visit Machu Picchu and Sacred Valley.
Transfers.
1 Night Hotel Stay in Aguas Calientes. - Machu Picchu Town.
1 Breakfast buffet at the hotel, 1 lunch buffet in the Sacred Valley of the Incas
Not includes:
Breakfast and dinner on the first day.
Lunch and dinner on the second day.
Huaynapicchu Entrance
We recommended to bring:
Comfortable light shoes.
Waterproof poncho during the rainy season.
Light clothing
Trousers
Insect repellent
Sunscreen and hat for sun protection.
Binoculars
Sunglasses.
A light backpack per person.
Camera and camcorder.