If you are looking for an adventure on your way to Machu Picchu at an unbeatable price, on a train with all the onboard comforts you could ask for, the PeruRail Expedition train has just what you need.
The train cars of the PeruRail Expedition train are steeped in the designs of Incan culture, making them the perfect way to start your trip to the Machu Picchu citadel. The PeruRail Expedition gives you the chance to take in the unbelievable scenery and take incredible panoramic pictures of a journey unlike any other.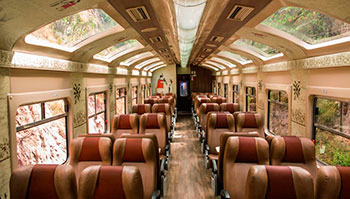 You will be waited on by a highly-trained staff member for the duration of your trip. Additionally, you will be able to enjoy a Food and Beverage service for sale, where you will find a wide variety of top quality products. You can find the catalogue here.
Departures are scheduled everyday, with a variety of schedules and frequencies.
The Adventure Starts in the Journey
Expedition Train for all the adventurous travelers who seek to discover all the journey details and arrange the trip itinerary according to their needs. The Expedition is the best alternative to go to Machu Picchu.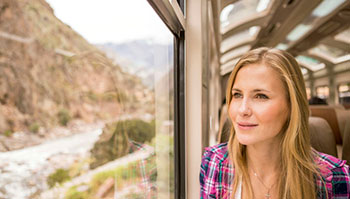 The Expedition is a service designed for the traveler´s comfort, with four passenger seats located in front of each other, so you can share your experience, and for the faithful backpack that is always with you we offer racks placed above the seats. Also, this train has panoramic windows, air conditioning and heating, and Andean music that creates a cheerful atmosphere. 
Expedition service departs from two stations: Cusco (Poroy) and the Sacred Valley (Ollantaytambo) 
The route Cusco - Machu Picchu is a three hours journey for those who want to departure directly from Cusco, being the only alternative in the market, and the Sacred Valley - Machu Picchu route offer multiple schedules and rates choices. 
Relax and start your adventure to the next station is Machu Picchu.
Because the expedition begins when you depart to your destination. 
This is a travel experience with all the quality and benefits of Perurail at a lower cost.
Timeables
Cusco (Poroy) - Machupicchu (Aguas Calientes)
| | | | | | |
| --- | --- | --- | --- | --- | --- |
| SERVICE | TRAIN | DEPARTURE STATION | DEPARTURE TIME | ARRIVAL TIME | ARRIVAL STATION |
| Expedition | 33 | Poroy - Cusco | 07:42 hs | 10:51 hs | Machu Picchu |
Machupicchu (Aguas Calientes) - Cusco (Poroy)
| | | | | | |
| --- | --- | --- | --- | --- | --- |
| SERVICE | TRAIN | DEPARTURE STATION | DEPARTURE TIME | ARRIVAL TIME | ARRIVAL STATION |
| Expedition | 34 | Machu Picchu | 16:43 hs | 20:23 hs | Poroy - Cusco |
Ollantaytambo (Sacred Valley) - Machupicchu(Aguas Calientes) 
SERVICE
TRAIN
DEPARTURE STATION
DEPARTURE TIME
ARRIVAL TIME
ARRIVAL STATION
Expedition
71
Ollantaytambo
05:07 hs
06:34 hs
Machu Picchu
Expedition
81
Ollantaytambo
06:10 hs
07:40 hs
Expedition
83
Ollantaytambo
07:45 hs
09:15 hs
Expedition
73
Ollantaytambo
12:58 hs
14:24 hs
Expedition
75
Ollantaytambo
19:00 hs
20:43 hs
Expedition
51
Ollantaytambo
21:00 hs
22:50 hs
Machupicchu (Aguas Calientes) - Ollantaytambo (Sacred Valley)
SERVICE
TRAIN
DEPARTURE STATION
DEPARTURE TIME
ARRIVAL TIME
ARRIVAL STATION
Expedition
50
Machu Picchu
05:35 hs
07:44 hs
Ollantaytambo
Expedition
72
08:53 hs
10:52 hs
Ollantaytambo
Expedition
74
14:55 hs
16:31 hs
Ollantaytambo
Expedition
504
16:22 hs
18:10 hs
Ollantaytambo
Expedition
84
18:45 hs
20:18 hs
Ollantaytambo
Expedition
76
21:30 hs
23:01 hs
Ollantaytambo