Trip Overview
This 4 day tour includes a visit to the local villages along our way. Our first stop will be in the colonial town of Lares, where we can go to the thermal baths and take a relaxing bath before the Hike. After that, we will begin our hike through the Andes Mountain Range. Every day is calm, with enough time to enjoy the incredible scenery, take amazing pictures and visit the local villages along our way. Once we arrive to Ollantaytambo we will see the Past of the Culture of the Incas, which still remains in its inhabitants, after that we will make a 2-hour trip by train to Machu Picchu.
The beauty of the mountains is parallel to the generosity of the people you will meet along our way during this trek.
This is an amazing cultural tour that is great for families. While all treks in the Andes are challenging, this hike moves a bit slower than others making it a favorite for youngest hikers.

Tour Type: Hiking, camping, adventure, history, culture.
Good For: All hikers, including families with young kids, active children.
Difficulty: Moderate, but challenging
Considerations: Emergency horse are available to rent throughout the trek.
Day 1: Cusco - The Famous Thermal Baths of Lares – Kiswarani Waterfall campsite
We will pick you up from your hotel at 5 a.m. to begin the famous Lares Trek to Machu Picchu, we will pick you up from your hotel in Cusco. It will be a three hour drive from Cusco along the beautiful landscapes of the Sacred Valley and through the Andes until we arrive at the Lares Hot Springs site, where you will have your first breakfast (on your own) surrounded by amazing views of the Andes Mountains. Then, you will enjoy the hot springs, which are divided into various pools ranging from freezing cold to boiling water. They are all composed of pure volcanic water, which are naturally medicinal and considered to be good for your bones, stress, muscles and headaches. After soaking in the baths for a while, we will drive 20 minutes to the trailhead, Punta Carretera at 3,300 m/ 10,827 ft above sea level. It is here that you will meet up with your horses and horsemen. You will give your duffel bags to the horsemen to be transported to the campsite. Following, you will begin your expedition to Machu Picchu. To start, it will be a two hour gradual uphill hike, until we reach our lunch spot at the first village, called Kiswarani. This section of the hike is considered the potato valley sector, where people farm many varieties of organic potatoes. Your tour guide will also point out some indigenous, medicinal plants growing along the way. Then, we will arrive at our lunch spot, where you will enjoy your first delicious meal prepared by our trekking chef.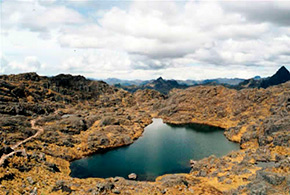 After lunch, our horsemen (llameros) will do a traditional ceremony with llamas showcasing these beautiful animals. Llamas were considered sacred to the incas and fundamental to their economy. Our llameros will introduce you to these animals and discuss their importance and why owning one was a sign of privelege. Nowadays they are disappearing, we hope to continue the tradition of the incas and this is our way of supporting the community that helps protect them. Llamas are friendly and strong animals and are a nice companion to walk with. Just don't get too close, they might try to give you a kiss.
You will also have time to explore the village and visit some local homes, where you will learn about the lifestyle and ancient traditions of the local people. If there is time, we will visit the school where the kids still speak Quechua, their native language. If you'd like, you may bring some toys, notebooks or any type of school supplies to share with these kids or perhaps you may even teach them a few English words. It will be another two-hour, gradual uphill hike until we arrive at the camping area, where you will be welcomed by our trekking staff, who will have your tents set up. We'll enjoy some hot drinks, as the sky darkens and the stars start appearing. Finally, you will enjoy a lovely dinner prepared on site. If you want to keep star-gazing, you may stay awake for a while longer.
Trekking Distance: 10 km/ 6.21 miles
Camping area Elevation: 3,850 meters / 12631 ft
Weather: Cold

Day 2: Kiswarani - Condor Pass - Cancha Cancha Village.
This day you will be woken up around 5 a.m. with our service of hot drinks. You will have amazing views of the colorful lake and the valley of Kiswarani. The local people will already be up taking their llamas and alpacas out to graze. Breakfast will be served as soon as you finish packing your gear. Then we'll fill up our water bottles, organize snacks and you will begin the most memorable day of your expedition to Machu Picchu. It will be a three or four hour climb to get to the summit of the mountain. This pass is called Pachacute, or Condor Pass. We'll zigzag our way up to compensate for the steep uphill. The views of the area are stunning, you will see lakes, waterfalls, llamas, and alpacas. We will have an emergency horse you can ride in case you are so tired.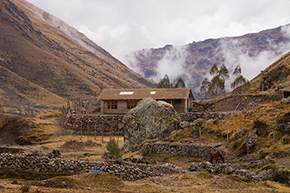 Once you arrive at the Condor Pass you will be above the clouds, above the mountain peaks and the surrounding 360-degree views are astounding. In front of you will be the majestic mountain of Pitusiray, which is at 5,700 meters (18,700 ft) high, and the Condor pass is at 4,680 meters (15,354 ft) high. Afterwards, we will enjoy the hot drink service that your porters will carry with them. We will take advantage of some phenomenal photo opportunities, and start our descent.
After finishing the Condor pass You will begin the one-hour downhill descent towards El Mirador (View Point), where you will enjoy lunch, perhaps there will be some llamas grazing nearby. After lunch, we will walk the last three hours downhill, with fantastic views of many lakes, llamas and alpacas, before arriving at your camping area at the village of Cancha Cancha, which is the only village that does not have modern technology. Cancha Cancha is a village (located 3,750 ma.s.l./ 12,303 ft) where people still practice real traditions of the Incas. In this Incan village, 85 percent of the houses are still composed of original, ancient construction, made of stone, with grass-thatched roofs. Unlike any other village in the Lares Valley, in this village there is no electricity or cars. Here, you will not only enjoy the wilderness while your porters set up your tents. You will have some time to meet with the local children. We provide them with food and school supplies, so we invite our travelers to share this support in the education and the health of this native village. You can join us and bring anything you would like to supplement the lives of these Quechuan-speaking children. Following, your guide will take you to one of the local family's houses, where you will learn about the lifestyle of the locals. You can see how they raise their guinea pigs, and you will learn about the traditional, hand-woven textiles, made of llama and alpaca wool. This is the best day of your hike. In the evening you will enjoy hot drinks and dinner.
Walking Distance: 14 km/8 miles
Elevation: 830 meters / 2,723 ft
Campsite Elevation: 3,750 m.a.s.l. / 12,303 ft
Weather: Cold
Day 3: Cancha Cancha – Huaran – Maras Salt Mine – Ollantaytambo – Aguas Calientes
Our Porters will wake you up with a hot drink and you will have some time to pack your bags and enjoy breakfast. After breakfast, you'll have time to explore the village and visit the local elementary school, where the ancient Inca language, Quechua, is still taught. Once you are ready, you'll begin the last part of your Lares trek. It will be four hours of walking downhill along this lovely path, where you will pass by more llamas and alpacas. We'll pass by farms where they cultivate potatoes, fava beans, and many other traditional tubers, in the traditional Incan style.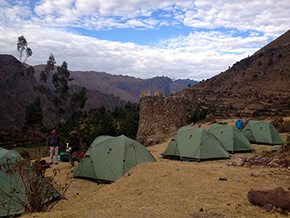 This is a great opportunity to learn about Peruvian agriculture because people still farm by hand with traditional inca farming tools. Then, we will start descending to the warmer area, The Sacred Valley. You will begin to feel how the micro-climate changes and start seeing crops that are different from in the high mountains. Around the Sacred Valley people farm corn, quinoa, kiwi, peaches, avocados and other types of fruits. Of course, this area has a lot of Incan history. You will end the tour at the little village of Huaran, in the Sacred Valley, at 2,700m / 8,858 ft where you will say goodbye to your horses, horsemen, chef and porters, as they will be going back to their homes.
From Huaran, we will take the van and make the short drive into the valley to visit the Salineras salt pans, in the town of Maras. Here, at 11,000 feet above sea level, a salt water spring gushes forth and spills down the side of the mountain. Over 3,000 small evaporation chambers have been created and look as if they are tumbling down the mountainside. These have been in use since pre-Incan times. The salt is said to have healing properties because it is loaded with natural minerals, some of it even comes out pink. Local families each own one of these pans, and make their lives supplying salt to the towns around the area. There is a small shop on site, if you want to take some salt home with you.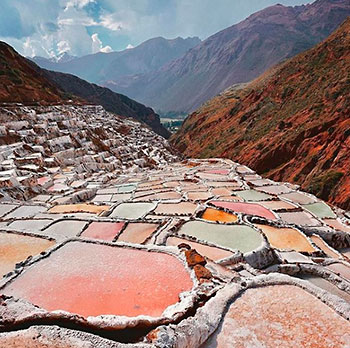 After visiting Salineras, we will climb aboard the van for a 45 minute drive, along the Sacred Valley to Ollantaytambo. Ollantaytambo is the only living, intact Inca village. It still has many Inca water channels, houses and walls. Your guide will take you around to view this small town until it is time for dinner, which will be at a local restaurant. We'll then catch the 7 p.m. train to Aguas Calientes, the town below Machu Picchu (train times may vary, depending on availability). Upon your arrival to Aguas Calientes, you will check-in to your hotel and relax.
Walking Distance: 9 km /6.2 miles
Aguas Calientes Elevation: 2,000 m / 6,562 ft
Weather: Cold in the morning, warm in the afternoon. Watch out for mosquitoes this day.
Accommodations: Mantu Boutique (or similar)
Day 4: Machu Picchu – Ollantaytambo – Cusco
The fourth day is the most magical day because you will finally experience Machu Picchu. You will wake up early to catch one of the first buses (around 5:30 a.m.), for the 30 minute ride up to Machu Picchu. You will see the Sunrise over the ruins. Your guide will take you for an informative two hour tour around the archaeological site.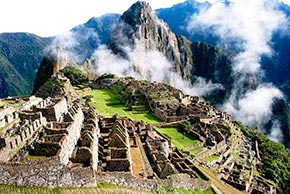 Afterwards, you will have time to explore on your own and hike Huayna Picchu if you choose to (this is a separate entrance ticket, if you want to book the entrance to Huayna Picchu it will be $20 additional per person, in case you want the Huayna Picchu included in your tour, we recommend you to book at least 3 months in advance since there is limited spaces per day). In the afternoon, you'll catch a two hour train back to Ollantaytambo, once you arrive there, we will go back to Cusco by Bus, once we arrive to Cusco we will transfer you to your hotel.
Weather: Warm and humid.
Note: 
If you want to stay an extra night in Aguas Calientes, please let us know in advance. We can adjust your train tickets and arrange for a hotel, if you would like us to help.
Rangers do not allow people to carry large backpacks inside Machu Picchu. Only day packs are allowed inside.
No walking sticks are allowed inside the citadel of Machu Picchu.
Snacks and water are allowed, but they must be inside your backpack.
What is included?
Included:
Professional English Speaking Tour Guide
Assistant Tour Guide for groups of 9+
Chef
Mules or horses to carry cooking and camping equipment plus 7 kg of your personal belongings.
Pick up from your Hotel at the time indicated the day before.
Transportation by private transport to Lares.
Transportation by private transport from Huaran to Maras and Ollantaytambo.
Train tickets from Ollantaytambo to Aguas Calientes and from Aguas Calientes to Ollantaytambo.
Return transportation by bus from Ollantaytambo to Cusco
Water (excluding the first 4 hours of the trek when you need to bring your own).
3 Breakfasts, 3 Lunches, 3 Afternoon Snacks and 3 Dinners. If you have a dietary request such as vegetarian food please let us know.
Dining tent with tables and chairs.
Tents are for every 2 trekkers.
Hotel on Day 3.
Sleeping mattress.
Oxygen tank.
First aid kit.
Entrance ticket to Machu Picchu.
Return bus from Machu Picchu to Aguas Calientes.
Not Included:
Sleeping Bag (You can rent one from us)
Breakfast on Day 1 and lunch and dinner on Day 4
Entrance to Huayna Picchu Mountain
Entrance to Lares hot springs.
Tips.
Travel Insurance - you are strongly recommended to take out travel insurance for the duration of your trip.
What you need to take
Original Passport.
Walking boots.
Waterproof jacket / rain poncho.
Warm jacket.
Hat and gloves.
T-shirts.
Comfortable Trousers.
Sun hat
Sunscreen (factor 50 or higher)
Insect repellant.
Toiletries and hand sanitizer.
Personal medication.
Camera.
Torch with spare batteries.
Cost of the Lares Trek to Machu Picchu 4D/3N

Private service 1 passenger
US$ 1402 per person.
Private service 2 passengers
US$ 849 per person
Private service 3 passengers
US$ 660 per person.
Private service 4 passengers
US$ 620 per person.
Private service 5 passengers
US$ 610 per person.
Private service 6 passengers
US$ 590 per person.
Private service 7 passengers
US$ 580 per person.