SKYLODGE ADVENTURE SUITES    
Hanging Lodge Camping 400 meters high in the Sacred Valley of the Incas.  
Via Ferrata     
Live the adventure in the hanging camp "Sky Lodge Suites" where you can experience a magical night with the stars, where the facilities within each module, allow to provide a service of total comfort, this tour was designed for those who love sports, unique adventure in its genre where you can sleep on a hanging camp on the mountains of the Sacred Valley of the Inkas in the city of Cusco, this hanging shelter is completely transparent.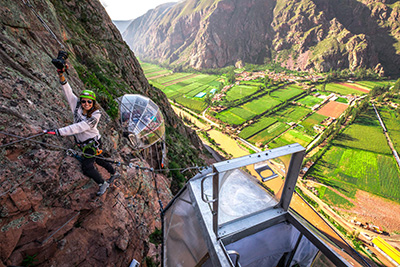 Description of the modules:
In the camp module there are six windows and four ventilation ducts in the module that ensures an adequate atmosphere where the lighting is totally ecological and has 4 lamps inside the module and each module has a private bathroom, inside this, you will find a toilet or dry toilet, a potty and a hand washer. This cupola has curtains in case you want more privacy with the condors (possible neighbors).    
Day 1:   
2:30 pm Our transfer will pick you up from your Hotel in the city of Cusco to take you to the town of Pachar, which is 1 hour and a half away from Cusco.
4:00 pm Arriving at the town of Pachar, you will be welcomed as well you will receive the Safety Talks by our specialized guides in high Mountains, Finishing the talks, you will receive the equipment.
4: 20- 6:20 Ascent (according to the type of activity chosen either by Zipline or Via ferrata)
6:30 pm Arrival at the hanging camp where you will be received with a cup of tea or coffee
6:30 pm Another talk of security and operation of the hanging lodge.
8:00 p.m.  A tempting dinner at the top of the mountain.    
Day 2:
The wake up call and the breakfast are scheduled according to the itinerary of the passengers for this day.
7:00 am The morning begins with a cup of coffee and / or tea to the suite
8:00 am Time to have breakfast
9 -11: 00 am Descent of the hanging lodge (depending on the activity you have chosen)
11:30 am - 1:00 pm Transfer from the town of Pachar to the City of Cusco.   
Ways to reach the Hanging Camp:
There are two access roads to get to Skylodge:    
1. The via ferrata, which is going by a suspension bridge where we will climb to about 400 meters high to reach the hanging shelter.
2. The Zipline and its first line by which you can reach the hanging shelter, after spending a night in the Skylodge, the descent is done by rappelling 100 meters of height, completing the Via ferrata or the 5 lines that complete the adventure of the zip line.
The Tour includes:    
Specialist guides in high mountain    
Via Ferrata equipment (harness, helmet, via ferrata set and gloves)
Zip-line equipment (harness, helmet, zip-line set and gloves)
Dinner and glass of wine
Breakfast     
Cost of the Tour, The Cost is expressed in US Dollars and are per person
| | |
| --- | --- |
| Cost of The Sky Lodge Tour | Cost Per person |
| Via Ferrata + Zipline + 01 night (Hanging Lodge Camp) | USD 450.00 Dólares |
| Zipline + 01 night (Hanging Lodge Camp) | USD 430.00 Dólares |
| Via Ferrata + 01 night (Hanging Lodge Camp) | USD 430.00 Dólares |