Paracas is located in the department of Ica and the province of Pisco in Peru 261 km from Lima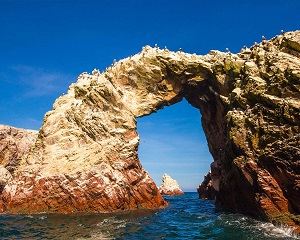 The name of Paracas means "rain of sand" because in this place the winds are carriers of sand; these winds can reach a speed of 32 km per hour
Because of its proximity to the sea, Paracas is a bay-shaped . The attractiveness of this beautiful seaside resort is its beach climate and that it has a privileged climate, and that is that most of the year it has sun, for the joy of tourists and inhabitants. It has a hectare of 335,000, of which 117,406 are of mainland and 217,594 of marine waters. Due to its great diversity of flora and fauna, it allows you to see dolphins, Humboldt penguins and sea lions.
Paracas has been declared a regional reserve for migratory birds and is perfect for bird watching
In Paracas, visitors may like to observe the different ecosystems, the archaeological remains of the Paracas culture, the place where San Martín landed, the enigmatic candelabra and the great diversity of marine fauna in the area.
In this resort you can visit the Ballestas Islands by boat, get to know the Paracas Museum, ride a quad bike, do water sports, paragliders, enjoy delicious food and it is highly recommended for families with children. In addition, you can enjoy a pleasant view of the beach.