If you love nature and the countryside, the PeruRail Vistadome is exactly what you're looking for.
The panoramic windows located beside and above your seat will bring you close to nature unlike anything you've experienced before.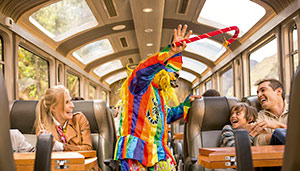 The PeruRail Vistadome train offers a unique connection with the scenery along the way to Machu Picchu, making passengers feel as if they were somehow part of the nature that surrounds them.
Return trips on the PeruRail Vistadome also offer an onboard fashion show, featuring the exclusive baby alpaca wool collection with the latest trends in alpaca apparel, all available for sale. As an added bonus, you can enjoy live dances inspired by the ancient culture of the Andes. Passengers also receive a snack made from local ingredients, so you can get the full Andean experience through our cuisine. The trip also includes non-alcoholic beverages for your onboard refreshment.
Departures are scheduled every day, with a variety of schedules and frequencies
"A journey for your senses"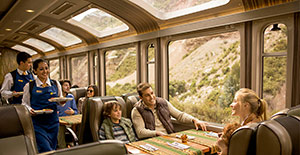 The Vistadome train is the ideal train for those who want to be in contact with the environment and appreciate the wonderful journey to Machu Picchu.Surrounded entirely by glass and wagons with large panoramic windows offering incomparable scenic views and innumerous opportunities to capture amazing pictures, Vistadome travelers feel connected and part of the impressive landscape of Peru. Perurail provide travelers on board personalized and first level service to give them an unforgettable life experience.
The Vistadome has three stations of departure to Machu Picchu: Cusco (Poroy), Sacred Valley (Ollantaytambo) and Sacred Valley (Urubamba)
The Vistadome also has air conditioning and heating, leather seats that adjust the body to provide comfort and relaxation during the entire trip.
From Poroy station located about 20 minutes from downtown Cusco, the journey to Machu Picchu lasts just over three hours. This is a unique journey experience in which PeruRail is concerned about every detail.
From the Sacred Valley (Ollantaytambo) this is a journey of one hour and 30 minutes, with practical and fast travel experience.
From Urubamba station, located 3 hours from Tambo del Inka Hotel. 
The Vistadome has a different service, which allows the visitor to be immersed and feel the Andean culture through its landscapes, music, dance and even food carefully prepared with local ingredients 
Connect your senses through a sophisticated and sensory travel experience. 
On-board experience with the best comfort and quality service.
Service Details: 
Long Stretch (from the Poroy Station, Cusco):
Outbound: Snack Service
Inbound: Snack Service
Short Stretch (from the Ollantaytambo Station):
Outbound: Light Snack Service
Inbound: Light Snack Service
Beverage: Selection of hot or cold non-alcoholic drinks (one hot drink and one cold drink per person)
Extra Costs: Extra non-alcoholic drinks, alcoholic drinks and candy/snacks on sale
Entertainment on Board: Saqra Dances and Fashion Show on the return trip from the Machu Picchu Station to the Ollantaytambo/Poroy (Cusco) Stations
Additional Products (sold on board):
Outbound: Local and PeruRail souvenirs and products.
Inbound: Exclusive collection of Baby Alpaca goods and souvenirs.
Connect your senses through a sophisticated and sensory journey:
Sight: Totally panoramic windows that connect you to the route.
Hearing: Representative dances of the Andean Culture (only on the return trip), music especially developed to involve you in a sensory journey.
Taste: Snack prepared with Andean ingredients.
Touch: Warm and fresh environment. More comfort with leather seats and extensive leg room.
Timeables
Cusco (Poroy ) - Machu Picchu (Aguas Calientes)
| | | | | | |
| --- | --- | --- | --- | --- | --- |
| SERVICE | | DEPARTURE STATION | DEPARTURE TIME | ARRIVAL TIME | ARRIVAL STATION |
| Vistadome | 31 | Poroy - Cusco | 06:40 hs | 09:52 hs | Machu Picchu |
| Vistadome | 203 | Poroy - Cusco | 08:25 hs | 12:11 hs | Machu Picchu |
Machupicchu (Aguas Calientes) - Cusco (Poroy)
SERVICE
DEPARTURE STATION
DEPARTURE TIME
ARRIVAL TIME
ARRIVAL STATION
Vistadome
32
Machu Picchu
15:20 hs
19:05 hs
Poroy - Cusco

 

Vistadome
604
Machu Picchu
17:27 hs
20:50 hs
Poroy - Cusco
OLLANTAYTAMBO (SACRED VALLEY) - MACHU PICCHU (AGUAS CALIENTES) 
SERVICE
TRAIN
DEPARTURE STATION
DEPARTURE TIME
ARRIVAL TIME
ARRIVAL STATION
Vistadome
601
Urubamba
06:50 hs
09:24 hs
Machu Picchu 
Vistadome
301
Ollantaytambo
07:05 hs
08:27 hs
Vistadome
601
Ollantaytambo
08:00 hs
09:24 hs
Vistadome
501
Ollantaytambo
08:53 hs
10:29 hs
Vistadome
203
Ollantaytambo
10:32 hs
12:11 hs
Vistadome
303
Ollantaytambo
13:27 hs
14:49 hs
Vistadome
603
Ollantaytambo
15:37 hs
17:02 hs
MACHU PICCHU (AGUAS CALIENTES) - OLLANTAYTAMBO (SACRED VALLEY)
SERVICE
TRAIN
DEPARTURE STATION
DEPARTURE TIME
ARRIVAL TIME
ARRIVAL STATION
Vistadome
302
Machu Picchu
10:55 hs
12:32 hs
Ollantaytambo
Vistadome
204
13:37 hs
15:04 hs
Ollantaytambo
Vistadome
304
15:48 hs
17:29 hs
Ollantaytambo
Vistadome
304
15:48 hs
18:43 hs
Urubamba
Vistadome
604
17:27 hs
18:56 hs
Ollantaytambo