Hiking the Inca Trail to Machu Picchu? Here's everything..... what to buy, what to rent, and what to leave at home.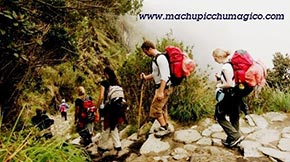 Bag: I have a 48-liter Osprey pack that I've been hiking with for years. It was fine on this trip, but I could have gotten away with a much smaller day-pack. That said, if you go the day-pack route, be sure to get one with a hip belt so you're not overburdening your shoulders. (Note: Big bags aren't allowed in Machu Picchu park, so we had to check ours and use a cheap drawstring backpack for our hike up Huayna Picchu.)
Water: I used my 100-ounce Camelbak for this trip, but never needed more than 2 liters of water at a time between fill-ups from our cook at morning, noon and night. So feel free to bring something smaller. John skated by with two Nalgene bottles and never had an issue.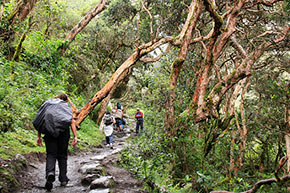 Sleeping bag: I rented a lightweight bag from our tour company for about $20, and suggest you do the same. Skip the sleeping mat. You'll be so tired you won't need it.
Trekking polls: I rented these as well, for $17, and they were invaluable during hours-long descents. You won't regret the extra few bucks.
Boots: If you're buying boots for a trip like this, break them in before you go, or risk debilitating blisters on the trail.
Flashlight: I'm a huge fan of headlamps. They're smaller and lighter than your traditional flashlight, and hands-free, which comes in handy if you have to pee in the middle of the night.
Clothes: Bring one extra pair of underwear, and one extra pair of socks, and carry both in your bag at all times — just in case. Women, I suggest doing the same with sports bras. I packed about three shirts and three pairs of pants, and only used two of each. Yes, I smelled bad, but we all did. Bring long underwear tops and bottoms for night, as well as a zip-up sweater for hiking, which you can ditch and carry in your day bag when it warms up each morning. I also alternated between a baseball cap and a winter hat depending on the temperature. A lightweight raincoat also came in handy. Your porters can carry any clothes you don't need on a given day. Just don't go over the 7 kilogram (about 15 pounds) weight limit.
Toiletries: Hand sanitizer is a godsend on a trip where you might find yourself peeing in the woods. So is your own personal roll of toilet paper. Put it in a zip-top plastic bag, just in case you get hit by rain. I also had a stick of Body Glide with me for blisters and chafing, and a travel pack of baby wipes. I brought a bar of soap, and only used it once, in the shower. Your guides will have soap for you as well. Obviously, you'll want your toothbrush and toothpaste, which you can keep in the porters' bags. Pro tip: Bring a stick of deodorant rather than the spray stuff - my spray can had trouble in the high altitude.
First Aid: Your guide will bring stuff, but I also packed my standard First Aid kit from Coleman. By day three, I'd separated just a few bandages and alcohol wipes into a plastic bag for my day pack and tucked the rest in with the porters' haul. Ibuprofen is a must. You'll be sore, but popping a couple every few hours also helps with the symptoms of altitude sickness.
Extras: Bring extra zip-top sandwich bags in case of rain. I also had a handful of trash bags for the same reason. They came in handy for wet clothes. We packed extra boxes of raisins and granola bars, and popped one of each into our day bags every morning. I kept extra bobby pins affixed to my bag's shoulder straps just in case.
Leave: I didn't use my selfie stick, compass or Bengay. I don't think I touched my hair brush, either. I also decided to ditch my nice camera, in favor of my cell phone, which I kept powered thanks to two extra battery packs. This saved me not just space, but weight.